LeadsArk is an educational hub for lead generation and digital entrepreneurship.
It teaches you how to start your online business. The company offers three levels of learning for digital marketers, LeadsArk Lite, LeadsArk Standard, and LeadsArk Pro. The company claims that it can help digital marketers generate online sales without burning cash. The company was founded by Ayaz Mohammad in June 2020 and is headquartered in Kolkata, West Bengal.
LeadsArk offers three courses to students and affiliate marketers interested in learning how to get leads organically. The LeadsArk Lite is priced at 2000/- INR plus GST. The LeadsArk Standard is priced at 3500/- INR plus GST, and the LeadsArk Pro is priced at 8475/- INR plus GST. The prominent features of the courses are mentioned below:
1. LeadsArk Lite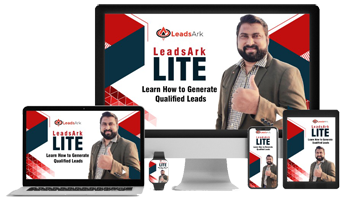 Organic Lead Generation.
Social Media marketing.
Personal Branding.
Attraction Marketing.
2. LeadsArk Standard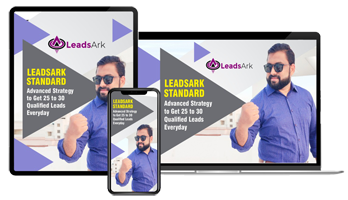 Everything in LeadsArk Lite plus the following additional features:
More Advanced Strategy of Organic Lead Generation.
Advanced Group Promotion strategy.
Product Review Strategy.
Lead Magnet Offer Strategy.
It also includes the following courses:
Social Media Content Creation ( Video).
YouTube SEO ( Video).
Email Marketing Automation ( Video).
Internet Marketing for Complete Beginners (Ebook).
YouTube Quick Start (E-Book)
Affiliate Marketing Success (E-Book)
Facebook Group Domination (E-Book).
Facebook Messenger Marketing – Chatbot (E-Book).
3. LeadsArk Pro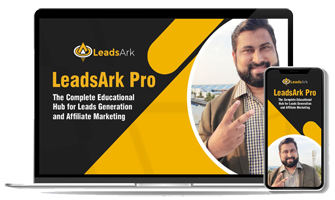 This program includes the following features:
i. LeadsArk Pro: Affiliate Marketing Training
Affiliate Marketing – Concept & Strategy.
Niche & Product Selection.
How to Work Like a Pro.
Different Affiliate Platforms – ClickBank, JVZoo, WarriorPlus.
Finding Killer Products beyond these Affiliate Platforms.
Marketing & Promotions of Affiliate Offers.
Advanced Strategy of Leads Generation.
ii. LeadsArk Pro: Sales Training
Advance Sales Strategy.
How to Pitch Your Affiliate Offers.
Objection handling.
Sales Closing.
Sales script.
iii. CPA Affiliate Marketing Training
Basic Concept of CPA Marketing.
How to get CPA Offers from IMC Platform.
How to find Ad Copies.
Relevant Keywords Research.
How to Create Bing Ads.
How to Optimize Bing ads.
DFY Landing Page / Sales Funnel Module.
How to get Bing Ads Coupons for Initial Campaigning.
iv. Personal Branding Training
How to Build Your Personal Brand Presence.
How to get the Niche Clarity.
How to Create Brand Story.
How to Position your Brand.
How to Create Brand Kit.
Content Creation for Personal Branding.
How to maintain Content Hygiene.
Basics of Copywriting.
v. Instagram Marketing Strategy Training
Introduction of Instagram Marketing.
3 Most Important Things in Instagram.
Business Accounts and Highlights.
Personal Branding with Feed.
Instagram Stories Guide.
Instagram Hashtags & Caption.
How to Grow with Reels.
Hacks to Jump Start from the Scratch in Instagram.
vi. LeadsArk Affiliate Marketing Strategy Training
Basic Concept of Affiliate Marketing.
Advantages of LeadsArk and Why LeadsArk.
Why People Fail in Affiliate Marketing.
How to Present LeadsArk to the prospects.
Organic Lead Generation.
Instagram hacks to attract Quality Leads.
Content Creation.
Disclaimer
LeadsArk has mentioned a strong disclaimer on their website, which disowns any responsibility for loss of money invested in efforts to market products and generate leads. They have explicitly stated that the LeadsArk course is for providing general information only, and digital marketers must take professional advice from a marketing consultant or other relevant professional before using the skills taught in their programs or before engaging in online marketing practices. They have stated that they do not guarantee any results for engaging in affiliate marketing or any other form of marketing taught in their courses and that results achieved may vary from one individual to another depending upon their skills, efforts, and other factors.
LeadsArk Reviews
I browsed through several reviews of LeadsArk. Most of them were positive. It is a bit difficult to identify whether a review is original and honest or whether the marketer has sponsored it. You will come across several Quora posts and reviews on the Internet and social media channels sponsored by the marketer. Under the circumstances, it is essential to do some research ourselves and use a bit of common sense and take every review with a pinch of salt. Although, I must say that there are some positive reviews about LeadsArk courses.
Why choose the LeadsArk program?
LeadsArk offers both concise and comprehensive training about Affiliate marketing in particular and digital marketing in general. For someone who wants to learn how to go about affiliate marketing, he can refer to freely available sources of information on blogs as well as Youtube. The challenge with freely available sources of information is that there is not much scope for clarifying your doubts and getting answers to questions that pop up in your mind while learning.
Benefits of LeadsArk Programs
A course like LeadsArk provides access to tutors with whom you can ask your doubts and queries and get them resolved.
You can also benefit from the questions of other students in the group and also benefit from the experience of the tutors and your classmates.
The LeadsArk Pro program is comprehensive and covers various topics related to affiliate marketing in detail.
A thorough understanding and study of the subject can help affiliate marketers get a good grasp of the subject and help them build a foundation upon which they can try to build a career in affiliate marketing.
Students can start by enrolling in the LeadsArk Lite program and see how it benefits them in their profession.
If they feel optimistic after completing the LeadsArk Lite program and experimenting with the knowledge taught in the program, they should take a step further and enroll in the Standard program.
Affiliate marketing is not a subject where theoretical knowledge will suffice. Students must complement their theoretical knowledge with practical experience and continue with the learning process.
Finally, when students are confident that they will benefit by enrolling in the Pro program, they should enroll for it to get detailed knowledge about the subject.
Final Words
I don't think LeadsArk is a scam. I think it can be a valuable source of knowledge for aspiring affiliate marketers, and they can benefit from the knowledge and experience of their tutors. Some of the tutors on LeadsArk have reasonable experience in the field of social media, blogging, and affiliate marketing. Students must have patience and must be willing to put sustained efforts over prolonged periods to benefit from affiliate marketing. LeadsArk can be a reliable guide in their journey. The ultimate results will vary from one affiliate marketer to another, and you must have the passion, patience, and talent to succeed in the business.
Check the details about the fundamentals of the digital marketing course by Google.